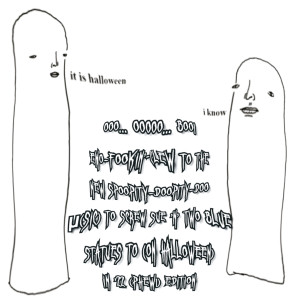 Monday Oct 31, 2022
2022-10-31 (Ooo… Ooooo… Boo! Emo-fookin'-clew to the New Spoopity-Doopity-Doo µ(sic) to Screw Sue 'n' Two Blue Statues To (on Halloween) in '22 (Phew!) Edition)
Perverrrrts… Ooo… Ooooo… Boo! Emo-fookin'-clew to the New Spoopity-Doopity-Doo µ(sic) to Screw Sue 'n' Two Blue Statues To (on Halloween) in '22 (Phew!) Edition of Monday Morning Aural muthafuckin' Sex! Yes, that entire asininity is the actual title. What the fuck, it's muthafuckin' Halloween, and you got a problem with that? I didn't fuckin' think so. As any of you weirdo-ass fucks like me who've been following me and my nonsense bullshit horsehocky foofaraw for the past year will know, these absurdly-named editions are just collections of new jams that I found. This one's super spiffily specialface though, 'cause it's muthafuckin' Halloween! This is the very first of my Halloween editions published precisely on October 31st.
In 10 years (on and off), I never did that shit. I coulda done it in 2016, but I started that lil 3 year hiatus in the summer of that year. I was way, way too mired in my fuckin' darkness to give a fuck about sharing any music, let alone putting in the work of assembling a podcast. So hey, at least I'm righting that wrong now. By the way, fuck all the people who made that darkness even more profoundly viscous and vast than it already was/is. I hope I live long enough to spit on your graves, but I have far more significant hopes than that. Even as generally hopeless as shit tends to feel in this hideous, late-stage capitalistic hellscape with the looming threat of climate change, I still have hope there's something better beyond the mountain of shit through which most of us are crawling. Present perspective is nothing if not pathetically limited, and often exacerbated by horrid mutations and distortions from the past, making the future typically seem miserably bleak at best. Or maybe that's just me because I'm a psycho stupidface doo-doo brain. Ah well.
Have I mentioned that it's Halloween?! Yes, and we have nearly 5 fuckin' hours of new fucktacularity ahead of us this week. How-fuckin'-ever, there is a mighty asterisk beside that word, "new…" Ya see, I was selecting tracks all the way up 'til around 5 AM because I decided to stretch the definition of new a little bit. No doubt you astoundingly observant perverts have already noticed that there are quite a number of older songs on this list. Surely to fuck those can't be new to me, right? Righty-o indeed you are. Those older tracks are either new to my Halloween editions, or new to the podcast entirely, but NOT new to my earballs. My sincerest apologies to either of the 1 or 2 listeners who may now be feeling bitterly deceived, but these older jams were just too fucktacular to exclude.
I should also mention that there's no fuckin' way in fuckin' hell that I could have possibly included everything I would have liked to for this most fucktacular of Halloween editions. Any potentially glaring exclusions were most likely left out only because of the late hour at which this is (as fucking always) being produced, and/or the fact that I saw I had nearly 5 hours and decided to cut myself off. Very fitting for Halloween, ya know? I'll spare you all (and myself) the usual seemingly endless fuckin' yammering about this, that and the other track because it's fuckin' Halloween, and all these tracks ought to speak plenty well for themselves given that theme.
I will say, however, that whoever cut the tracks for the Mr. Nightmare stories on Spotify did one of the most nauseatingly atrocious editing jobs I've ever had the misfortune of experiencing. I can't even excuse it by imagining that whoever did it was inexperienced, because even people who are completely new to audio editing would never cut tracks in the middle of words. Absolutely preposterous, especially since all the other aspects of the stories are perfectly fine, even rather well done down to the soundscapes and stingers they use to enhance the stories. Ah fuckin' well, I fixed it so y'all won't even notice a thing.
Aside from that, if you actually have any questions about any of the tracks (you won't), feel free to ask (but again, you won't). If you encounter a track you don't like, fuckin' skip that shit. The only fuckin' weirdo freak maniac who can actually hang with every single one of these tracks (as far as I know) is me, so skip away, ya silly-ass muthafuckas. Should go without saying, but the more tracks I've included by XYZ artist here, the more highly I recommend them to you for further listenage. That is, if you can extract your head from the thrumming soundtrack in your anus long enough to take a suggestion or 40 from yours truly. I know, I know, I'm too fuckin' much.
Anyway, Happy muthafuckin' Halloween, and onward to this most gloriously spooptastic yojne!
01 The Bouncing Souls - Mommy, Can I Go Out And Kill Tonight? (from Violent World: A Tribute To The Misfits) [00:03:31]
02 Dead Kennedys - Halloween (from Plastic Surgery Disasters/In God We Trust, Inc.) [00:05:26]
03 Harley Poe - Ima Killer (from Satan, Sex and No Regrets) [00:09:00]
04 Shinra Knives - keep the fuck away from me (from you will never see heaven) [00:12:52]
05 Architects - be very afraid (from the classic symptoms of a broken spirit) [00:16:17]
06 Ghastly - This Song Scares People (from This Song Scares People) [00:20:31]
07 Metallica - Welcome Home (Sanitarium) (Remastered) (from Master Of Puppets (Remastered Deluxe Box Set)) [00:22:30]
08 SWARM - The Nothing (from The Nothing) [00:28:54]
09 Ov Sulfur - Stained In Rot (from Stained In Rot) [00:34:13]
10 BANKS - And I Drove You Crazy (from Goddess (Deluxe)) [00:38:25]
11 Psyclon Nine - Behind A Serrated Grin (from INRI) [00:42:52]
12 Sons of Perdition - The Summoning (from Heathen Hof) [00:47:38]
13 Terra Genesis - Cult of the Damned (from Cult of the Damned) [00:50:22]
14 Eartha Kitt - I Want to Be Evil (from That Bad Eartha) [00:55:11]
15 Iron Maiden - The Evil That Men Do (2015 Remaster) (from Seventh Son of a Seventh Son (2015 Remaster)) [00:58:39]
16 Metallica - Jump In The Fire (Remastered) (from Kill 'Em All (Deluxe Remaster)) [01:03:11]
17 SWARM - Take Me to Hell (from Take Me to Hell) [01:07:48]
18 Zardonic - Raise Hell (from Antihero) [01:12:48]
19 Ozzy Osbourne - Hellraiser (feat. Lemmy) (30th Anniversary Edition) (from No More Tears (30th Anniversary Expanded Edition)) [01:17:23]
20 Figure - The Cenobites (from Monsters 13) [01:22:15]
21 HIGHSOCIETY - Burn (feat. Craig Mabbitt of Escape The Fate) (from Burn (feat. Craig Mabbitt of Escape The Fate)) [01:25:37]
22 Graeme Revell - Inferno (from The Crow Original Score) [01:28:53]
23 Mr. Nightmare - 8 True Halloween Horror Stories (Pts. 3 & 4) (from 8 True Halloween Horror Stories) [01:33:53]
24 Zeds Dead - Fugue in D minor (from Spotify Singles) [01:37:12]
25 KoRn - My Gift to You (from Follow The Leader) [01:41:50]
26 Shinra Knives - Girl Missing (from Girl Missing) [01:48:56]
27 Cannibal Corpse - Entrails Ripped From a Virgin's Cunt (from Tomb Of The Mutilated) [01:53:08]
28 Creature Feature - A Gorey Demise (from The Greatest Show Unearthed) [01:57:21]
29 The Horrors - Against The Blade (from Against The Blade) [02:00:14]
30 Tokyo Machine - SLASH (from SLASH) [02:03:32]
31 Chimaira - Severed (from Pass Out Of Existence (20th Anniversary Deluxe Edition)) [02:07:38]
32 Sons of Perdition - Hallowed Blood from Hollow Beasts (from Heathen Hof) [02:10:53]
33 $uicideboy$ - Fuck Boy Blood Bath (from YUNGDEATHLILLIFE) [02:15:24]
34 Nighted - Bleed (from Absence) [02:17:22]
35 Dog Fashion Disco - Covered in Blood (from Ad Nauseam) [02:24:52]
36 Sons of Perdition - Cold Blood Congealing in a Dead Sparrow's Heart (from Heathen Hof) [02:29:25]
37 KoRn - Kill You (from Life Is Peachy) [02:31:36]
38 Clark - Strangled To Death In A Public Toilet (from The Last Panthers) [02:36:35]
39 Lorna Shore - Cursed to Die (from Pain Remains) [02:39:48]
40 The Berzerker - Death Reveals (from Dissimulate) [02:44:25]
41 Drumcorps - Dead to Me (from For the Living) [02:46:21]
42 iamjakehill, Josh A - Back From the Dead (from Back From the Dead) [02:50:28]
43 Acid Bath - New Death Sensation (from Paegan Terrorism Tactics) [02:52:45]
44 Dog Fashion Disco - A Corpse Is a Corpse (from Erotic Massage) [02:59:15]
45 The Berzerker - Massacre (from The Berzerker) [03:04:05]
46 KoRn - Dead Bodies Everywhere (from Follow The Leader) [03:07:32]
47 Derek Fiechter, Brandon Fiechter - Pumpkin Carnival (from Pumpkin Carnival) [03:12:17]
48 Mr. Nightmare - Trick-or-Treating Horror Stories (Pts. 3 & 4) (from 3 True Trick-or-Treating Horror Stories) [03:15:55]
49 Type O Negative - Haunted (from October Rust) [03:20:34]
50 Metallica - All Nightmare Long (from Death Magnetic) [03:30:42]
51 Paul Wiley - Terrifier 2022 (from Terrifier 2 OST) [03:38:36]
52 Figure, Contakt - Camp Terror (from Monsters 13) [03:40:44]
53 Ozzy Osbourne - Shot in the Dark (from The Ultimate Sin) [03:44:03]
54 Iron Maiden - Fear of the Dark (2015 Remaster) (from Fear of the Dark (2015 Remaster)) [03:48:11]
55 Allen Mock, Chow Chow - Phantom (Haunted Version) (feat. Tokyo's Revenge) (from Phantom (Haunted Version) (feat. Tokyo's Revenge)) [03:55:22]
56 Metallica - Phantom Lord (Remastered) (from Kill 'Em All (Deluxe Remaster)) [03:58:00]
57 Sons of Perdition - The Shadow of the Undertaker (from The Dissolution Orphans) [04:02:57]
58 SIPPY - Ghosts (from Ghosts) [04:06:25]
59 Shinra Knives - spook knowledge (from you will never see heaven) [04:08:43]
60 Metallica - Of Wolf And Man (from Metallica) [04:10:45]
61 Nita Strauss - The Wolf You Feed (feat. Alissa White-Gluz) (from The Wolf You Feed (feat. Alissa White-Gluz)) [04:14:59]
62 Psyclon Nine - Parasitic (from Crwn Thy Frnicatr) [04:18:51]
63 Polkadot Cadaver - Bloodsucker (from Sex Offender) [04:23:37]
64 Basil Rathbone - The Raven (from Basil Rathbone & Vincent Price Read Edgar Allan Poe Stories & Poems) [04:27:34]
65 Lorna Shore - ...And I Return to Nothingness (from ...And I Return to Nothingness - EP) [04:35:51]